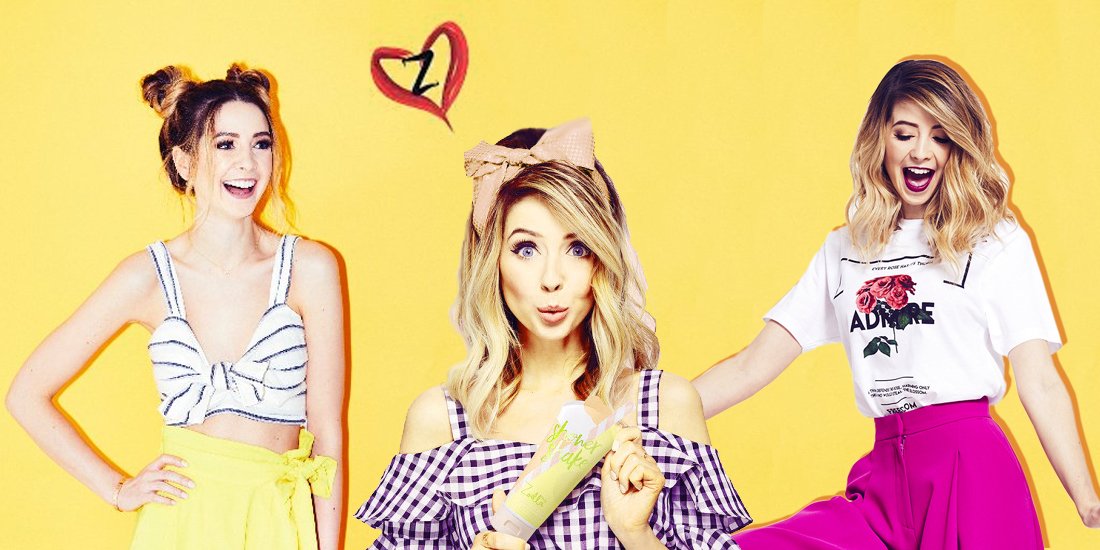 How to wear elegant dresses like zoe sugg
Do you follow Zoe Sugg when checking out the latest fashion trends topping the charts? Zoe Elizabeth Sugg is UK-born and is famous for her elegant dresses and beauty vlogs. She is also known as Zoe Sugg or Zoella, after her well-known YouTube username.
In 2014, Zoe launched her very own brand called Zoella Beauty that was hailed as the 'biggest beauty launch of the year.' In 2009, she started her blog called Zoella, which spoke expressively about beauty and fashion. She also has a Christmas gifting range called Zoella Lifestyle.
All this time, she was working for New Look, a UK-based clothing brand. Her blog and YouTube channel became so popular that she received more than 540 million visits to her social media accounts in the next six years.
Today, she is a YouTube sensation and is considered to be one of the most influential persons in the virtual world. Being one of the pioneers in the social media influencers' world, she has partnered with some of the worlds' popular beauty brands.
Zoe Sugg's rise to fame has been attributed to her originality of content. She featured her daily routine to mention her shopping favorites and makeup tutorials, and vlog series.
Zoella Beauty was an overnight hit, breaking all records where almost all her beauty items were instant successes. Today, she has more than 16 million YouTube subscribers, 12.6 million Twitter followers with a record view of an Instagram feed by over 9 million.
Zoe also launched the Sugg Life- a line of merchandise with her brother. The items were all sold out within 25 minutes of hitting the stands because of their following on social media.
ZOE SUGG – THE EPITOME OF ELEGANCE – HER CHOICE OF ELEGANT DRESSES
There is more to Zoe Sugg's rise to stardom. Zoe has worked hard to cultivate a clean, relatable image for herself amongst her followers.
She has created a niche for herself in every domain that she has blogged and vlogged on. So, be it her taste of cakes or pieces of advice on outfits, every aspect has helped strengthen her persona.
Zoe has annual earnings of more than £ 177.3K each year – no mean achievement for a 30-year old. Her choice of clothes, fashion, and outfit selection tips, and her beauty vlogging has since become a rule book for other beauty bloggers.
Zoe has been vocal about her preference for fashion and choicest elegant dresses.
In this fashion blog, we will find out more about the iconic style statement of Zoe that has been creating ripples amongest her followers ever since.
Here are a few of Zoe's style files that she carries with her inimitable vibe and elegance.
1. The retro denim jumper
Highly inspired by Rachel's dressing style from the Friends series, Zoe loves to dress in the oversized jumper that is a characteristic of the nostalgic 90s. Zoe claims that she emulated Rachel's style even as a teenager.
What she loves about Rachel's dressing style is the comfort quotient of the outfits. She simply loves the character's formal, stylized clothes and quite often refers to different forms of her favorite character from the Friends series.
2. Love for leopard prints
Zoe Sugg loves animal prints. She matches her leopard-printed skirt very well with a bold red color top. The color is one of her favorites too.
Her advice is to match the skirt with your preferred color top to create a bold style statement. Zoe's style stakes – combine the attire with some oversized necklace and unruly curls to complete the look.
3. The classic jeans with a black-buckled belt
Zoe pairs up the vintage jeans with a black belt, boots, and white shirts. Zoe feels this is one of the most comfortable and timeless elegant dresses in a woman's wardrobe.
This is one elegant dresses that will never go out of fashion. The 'girl next door image' is something that Zoe has practiced and loves because she appreciates easy-going things.
DRESS LIKE ZOE SUGG AND LOOK YOUR ELEGANT BEST
So, Zoe has about 37 videos dedicated to beauty and fashion. Most of them have been able to garner great attention from her followers because she keeps her style basic and yet so pleasingly attractive.
Check out her elegant dresses choices!
Go-to accessories cosmetics – Zoe keeps her looks and style simple yet elegant ! It is never overly complicated. She is rather quite grounded. Her favorite accessories are her cosmetics that you can see almost in all her videos. She is never seen without her fake lashes, eye shadows, foundation, blusher, and bronzer.
Tortoiseshell glasses – In many of Zoe's Instagram pictures, you will find her wearing a sleek pair of tortoise glasses from Michael Kors that gives her an extra edge.
Black headband – Off for a trek or a casual jog in the morning, she uses ablack headbandto keep her hair in place and keep the sweat out of her eye.
Velvet headband– One of the cool hair accessories, the velvet band is a chic addition to your style, adding instant sophistication to your looks. Zoe Sugg also adds this polished piece of hair accessory to create her elegant iteration to parties and holidays.
Baker boy styled hat- This is paired well by Zoe in an Insta post where she goes in for a minimalist look with a white knit shirt with ripped jeans.
Wristwatch – Zoe loves her Michael Kors watch that is affordable and relatable. Though her hands are bare most of the time, you get a glimpse of the watch once in a while in her vlogs.
Sash waist – Zoe experiments with silk and chiffon to make a sash across her thin waist. This one merely looks great with a strapless gown that reflects the volume of the upper half of the body and accentuates the bottom's slimness. This is quite a flattering piece of accessory in your wardrobe for sure.
Earrings – Zoe's Instagram posts show her suggesting the gold-plated hoop earrings and the gold star hanging earrings to add oomph and heat to her looks, for sure.
Wardrobe pieces
Basic and simplistic choices – Her favorite cloth brands are H&M, Topshop, and ASOS. You will mostly see her in a normal Tee matched with denim. She is not into the starry looks or dressy kinds.
One aspect of most of her videos is that you find her in plain colored tees. You will catch her mostly in striped tees or a simple top matched with her jeans.
Short sleeves– Most of Zoe's tees have two things: theshort sleevesand the stripes. It adds a unique casualness to your look. When fitted well with your upper arms, it can take your look to a different level.
Strap tops– When Zoe started to make videos in her home on her everyday life, she was only 11 years old and dressed in a cool spaghetti strap top. But even as an adolescent, she could give any grown-up a run for their money – she could carry herself so confidently.
Sultry colors – In one of her Instagram posts where she is on Brighton beach with her mom next to her, Zoe Sugg is dressed in brightly colored yellow culottes combined well with a monochrome striped t-shirt. The picture got more than 4 million likes as her followers stamp her endearing hot style.
Peter Pan Collars – These are a big yes with Zoe. She looks too cute, just like a school kid. The top reflects an honest, no-nonsense, and pretension-less outlook that makes it a fashionable choice!
Culotte-style trousers – This is one of her favorite collections. A close inspection of her Instagram posts shows her dressed in these pairs quite too often.
The midi polka dot dress from ASOS worn by Zoe for another of her Instagram shots is impeccable. It is again quite basic and casual but looks exceptionally endearing. It highlights her cute girlish smile and laughs!
In a post on Instagram, Zoe appears in a leopard-printed jumper and looks incredible. Her nonchalance comes off well in the picture where she pairs the jumper with acid-wash jeans and a faux-fur trimmed leather coat.
Zoe puts a lot of work in deciding her autumn wardrobe. The polo neck or the turtle-neck dress is versatile and looks great, is economical, and practical wear and has a retro element to it too.
Match it in style with a pair of cropped pants that are also one of Zoe's favorites. The wide-legged and high-waisted culottes have a cropped cut below the knees or just above the ankle that looks extremely elegant.
The best part is that you can extend this bottom for the winters too. The look is completed with a pair of nice-looking boots and a tight-fitting jacket!
For the jacket, Zoe loves to go in for her oversized overcoats. This one's a classic and perennial choice of fashionistas for ages now. It is suitable for all sizes and body shapes. And there is more room at the hips that make it extremely comfortable.
Another top pick for Zoe's autumn dress style is the Grey jumper from Gucci. With a colorful painted Gucci logo front, Zoe pairs her informal look with oversized glasses to spice up her looks.
Fashionable shoes – Zoe mostly wears simple, minimalistic flats when moving out, but once in a while, you get to see her in floral boots that make her look gorgeous.
Zoe loves to walk in the park, wearing a pair of casual flats that make her simple look carefree and quite stylish.
Strappy heels– Besides the simple flats and the floral shoes that make her look uber chic, Zoe also loves to dress up in strappy heels often to add more curvature to her lumbar region. It surely makes her look wow, and it can do the same for you too.
Zoe Sugg is undoubtedly a superwoman. She has carved an unbeaten niche for herself in the international fashion space. We have covered her ubiquitous range of dressing styles and choices that keep her childish glee and charm intact.
If you have loved this blog, subscribe to making it one of our times' top fashion blogs. With a subscription, you will receive free copies of all the latest fashion-related blogs that we keep featuring in this space.
Mr. Sarna is the world's favorite source for the latest Celebrity Gossip, Fashion Trends, Beauty Tips, and Lifestyle updates!