Make a delicious dinner for date-night
Date night doesn't have to be canceled just because you can't eat out. There are a million and one ways to make the most of your time at home and still enjoy yourselves to the fullest. If you're not sure where to begin or you're new to having a date night at home, we've put together not 1, but 4 delicious dinners that you can prepare to spice things up and seduce each other's taste buds.
If you need other ideas to while the time away while dinner is getting ready, there are tons of ideas you would find on any food and lifestyle blog you can get your hands on. We understand how difficult it is to think up something really special yet simple and sweet for you and your partner. We have taken the time to put together recipes that are mouth watering delicious enough to make date night a daily affair.
If you would like a properly cooked meal, delicious vegan dinner, or just a side dish, you would find what you need among these recipes. Each of these dishes have rich flavors to wow your taste buds so get ready to whip up the perfect meal, especially if you haven't had one in a while. Here we go!
SEARED SCALLOPS WITH FRESH TOMATO-BASIL SAUCE AND ORZO
This recipe is perfect for summertime meals that taste as good as what you would find in any quality restaurant. Count yourself extra lucky if you have a garden blooming with tomatoes and basil because you get garden-fresh ingredients that would bring out all the rich flavors.
This meal is also ideal if you don't want a pasta dish. Instead, you would be preparing Sea scallops and Orzo. These are three times larger than bay scallops so they would be quite filling. If you have no prior experience with scallops, you should know that all they need is a little spice because of their sweet and delicate taste.
This food blog ensures that you make the most of all your cooking resources; this is why we recommend that you should use dry-packed scallops that don't have any watery residue. This ensures that they get that nice and golden brown look when they have been seared. It is also advisable that you use these dry scallops the day you buy them for a fresher taste. Lastly, you may use grits or rice as a substitute for Orzo if unavailable.
Before you begin, it is ideal that you prep all you would need to get this delicious dinner going. It takes only about 30 minutes to prepare so you have ample time to prepare and still retain the amazing flavor of this delicious dish.  Here's what you would need.
Ingredients
¼ cup shared olive oil

1 cup thinly sliced sweet onion (1 large onion)

1¼ teaspoons kosher salt

1½ cups uncooked orzo pasta

¼ cup thinly sliced fresh basil, divided

2 pt. cherry tomatoes

2 tablespoons chopped fresh flat-leaf parsley

1½ tablespoons of minced garlic (up to 6 cloves)

16 dry-packed jumbo scallops (about 1 lb.)

¾ teaspoon black pepper, divided

¼ cup salted butter
This makes 4 servings, leftovers can be refrigerated till a later date.
How to Prepare
Step 1 – Tomato-Basil Sauce
Begin by heating two tablespoons of oil in a 10-in. Cast iron skillet over medium-high heat.

Add the onions and cook them, stirring them once in a while until they soften and start to turn brown. Do this for 3-4 minutes.

Next, pour in the garlic and cook, stirring continuously for up to a minute.

Add your tomatoes and 2 tablespoons of basil, 1 teaspoon of salt and ½ teaspoon of pepper. Cook by stirring occasionally (6-7mins.) until the tomatoes burst open, releasing their juices.

Continue to cook for 1-2more minutes, stirring occasionally, until sauce thickens slightly. Pour the sauce in a bowl and keep it warm.
Step 2 – Scallops
Clean up your skillet and prep it for use. Also, pat down your scallops with dry paper if they are still wet. Add the leftover ¼ teaspoon of salt and pepper.

Next, heat up the leftover 2 tablespoons of oil in your skillet over high heat. Place the scallops in the oil and cook for 1 min. 30 secs. on each side. Cook until golden brown and take them out immediately. Do not overcook.
Step 3 – Orzo
Cook orzo according to the packet instructions then drain. Don't forget to stir it in butter and parsley.
Step 4 – Serving
Divide the orzo into your favorite date night dishes then add a sizable helping of ⅔ cup of tomato sauce on each plate. Top it with 4 scallops each. Sprinkle the rest of the 2 spoons of basil on each dish evenly. Dinner is served!
ROASTED BRANZINO WITH LEMON AND THYME
Every couple loves a good roasted meal from time to time, as one lifestyle blog suggests.
Roasted potatoes are an all-time favorite and work well as perfect date night dinners.
Roasted Spaghetti Squash also makes sumptuous vegan pasta, Roasted Sweet Potatoes work too.
But this recipe is not about potatoes or pasta, it's about Seafood – Roasted Branzino.
This meal is super easy to prepare and takes only about 10 mins of prep time and 30 mins for every other thing. Here's what you need.
Ingredients
1 or 1½ pounds whole Branzino(snapper, perch, cod, Arctic char, bass, sea bream can work too).

4 thyme sprigs and 4 bay leaves.

Extra-virgin Olive oil

Kosher salt and freshly ground pepper

1 thinly sliced lemon and 1 lemon cut into 6 wedges.
This makes 2 filling servings.
How to Prepare
Preheat the oven to 450 degrees.

Pat the fish dry and rub the skin and cavities with olive oil.

Season it properly with salt and pepper then stuff the cavities with lemon slices and a few sprigs of thyme.

Move the fish to a rimmed baking sheet. Set the fish cavity-side down and hold it in place with 3 lemon wedges on each side. Sprinkle the rest of the thyme sprigs.

Allow the fish to roast until cooked. This takes about 17 -22 minutes depending on the size of the fish. You can now fillet the fish and serve with roasted lemon wedges or one of the fish slices.
RADICCHIO SALAD WITH CHOPPED-LEMON DRESSING
Mouthwatering vegan dinner recipes are one of our favorites. This Radicchio Salad takes less than 30 minutes to whip together and guess what? You can even make it early on (up to 6 hours ahead) if you think you would be too busy to do it close to date night. Let's get to whisking!
Ingredients
1 head radicchio (10 ounces)

1 small lemon

1 teaspoon whole-grain mustard

½ teaspoon sugar

2 tablespoons extra-virgin olive oil

Kosher salt and freshly ground black pepper

1 cup packed fresh mint leaves
This makes 2 servings and takes about 25 mins to prepare.
How to Prepare
Break Radicchio head into individual leaves.

Peel the lemon with a sharp knife, remove the pith and slice the lemon into quarters.

Remove the center membrane and seeds then chop the rest of the lemon finely.

Place the lemon in a large bowl and stir in the mustard, oil, and sugar. Add some salt and pepper for taste.
5.Add the radicchio and mint leaves in the bowl and toss. Add some more salt and pepper. Your salad is ready to serve!
Note: If you are making the salad early, refrigerate it to preserve. Don't forget to whisk again before serving.
PAN-FRIED CHICKEN WITH LEMONY ROASTED BROCCOLI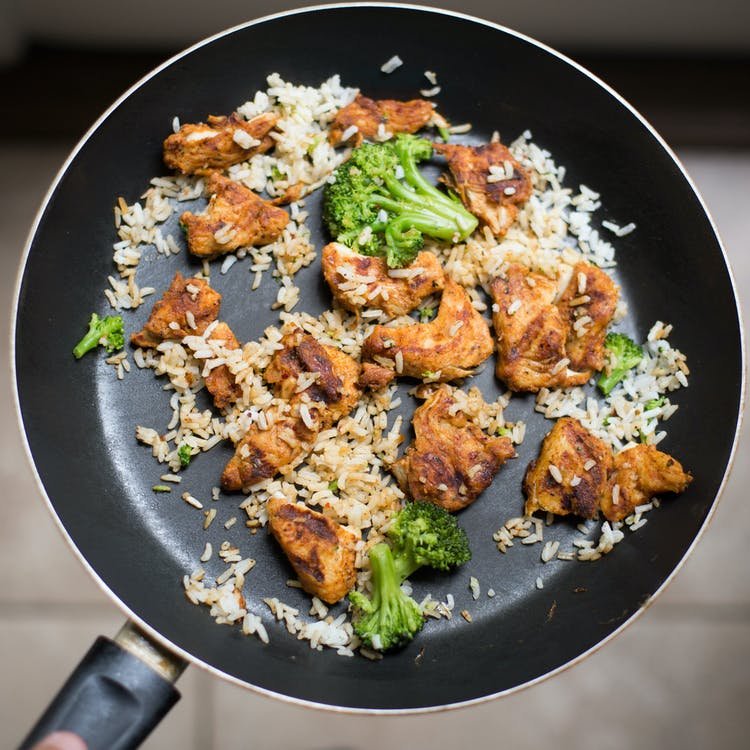 If you're going to go all out for a date night dinner, then it's only fair you do it right. And guess what? You can never go wrong with chicken (except, of course, one of you is vegan!) Here's a simple recipe to try.
Ingredients
1½ pounds Broccoli; Cut into florets

2 cloves Garlic, thinly sliced

3 tablespoons Olive oil

Kosher salt and Pepper

4 Boneless chicken breasts

1 cup All-Purpose Flour

1 Lemon; cut into 1/2 inch pieces

2 tablespoons Lemon Juice
This makes 4 servings.
How To Prepare
Heat up the oven to 425 degrees. Toss the broccoli and garlic in 1 tablespoon of oil on a rimmed sheet. Sprinkle ¼ teaspoon each of pepper and salt and then roast for 10 minutes.

In the meantime, pound the chicken breast till it's evenly thick then season with ¼ teaspoon each of salt and pepper. Coat in flour.

Using medium-high heat, heat up 1 tablespoon of olive oil in the skillet then cook chicken until it is golden brown. 3-5 minutes each.

Arrange the chicken breasts inside the sheet with broccoli and roast nicely for  6 minutes.

Return the skillet to medium-high heat and add the leftover 1 tablespoon of oil and lemon pieces. Stir for 3 minutes until it starts to turn brown.

Add some lemon juice and ⅓ cup water and cook. Make sure to stir and scrape up any burnt/browned bits. Serve chicken with some scoops of sauce and broccoli.
If you enjoyed these recipes, then you probably would want more recipe ideas like this sent to you occasionally. Yes? Then subscribe to our lifestyle blog for more relevant content such as travel ideas, family, fashion tips, home design, and definitely more yummy recipes!
Mr. Sarna is the world's favorite source for the latest Celebrity Gossip, Fashion Trends, Beauty Tips, and Lifestyle updates!