The global pandemic has stretched longer than anybody initially anticipated. While the first few weeks of staying home were relaxing and fun, you are now falling back to your old routine and have stopped experimenting with new recipes in the kitchen. Nobody is making the viral Dalgona coffee anymore and not too many people have continued baking their bread.
Even though there have been some relaxations with dining in and take-outs, social distancing and self-quarantining probably made you stay put at home for most of the week. Though stocking up on frozen food and getting your favorite burger delivered home is easy and convenient, you need to start consuming more whole foods that are healthy and nutritious.
Now, do not worry, eating healthy does not have to be tedious or time-consuming. Here are four quick and easy recipes for you to try when you are bored of microwaving frozen pizzas and chicken.
Low incalories, nutritious, and incredibly delicious, this easy-to-make chicken noodle soup will become your favorite comfort food on chilly nights.
This chicken soup is also a quick way to devour some of the fresh veggies!
This chicken soup recipe will take around 45 – 60 mins from start to finish, depending on if you are using a store-bought broth or making your own from scratch.
Using skinless and boneless thighs speeds up the cooking time without compromising on taste, perfect for when you want to whip up something yummy without putting in too much time.
So, let's get started.
You will need (for 3 servings):
Olive oil or butter – 1 tablespoon
Garlic – 2 cloves, minced
Onion – 1 medium, chopped
Carrot – 1 large, chopped
Celery – 1 stalk, chopped
Skinless, boneless chicken thighs – 2 to 3
Chicken broth – 4 cups (when using store-bought, look for healthier low-sodium options)
Egg noodles – 2 to 3 ounces
Dried thyme – ½ teaspoon
Fresh parsley – 2 tablespoon, chopped
Lemon – 1 (optional)
Salt and pepper – as per taste
Recipe:
a. Add the olive oil or butter in a large pot on medium heat. Wait till the butter melts or the oil heats up.
b. To this, add onion, carrots, and celery and stir every few minutes. Cook for 5 minutes or till the vegetables start to become soft.
c. Add the garlic and thyme. Keep stirring till the garlic starts to turn golden brown.
d. Add the broth to the pot and bring the heat to low. After cooking it for a few more minutes, taste the broth and add salt and pepper as required.
e. Next, add the chicken thighs to the broth and make sure the chicken pieces are completely covered and submerged. Cover the pot with a lid and cook for around 15-20 minutes. Stir occasionally.
f. You can add more broth or water to the pot if needed.
g. Once the chicken pieces are cooked, remove them from the broth and place them in another dish. Add the noodles to the pot and cook until they are done.
h. In the meantime, shred the chicken pieces or cut them to smaller chunks or cubes and add them back to the pot once your noodles are cooked.
i. Perform a final taste test and add any additional seasoning if required. You can also add a dash of lemon for some acidic flavor.
j. Garnish with parsley and your yummy & nutritious chicken noodle soup is ready!
The chicken noodle soup is best served hot and with a side dish of garlic bread or crackers.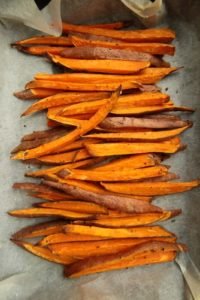 Ah! Fries, so addictive, but so unhealthy. Deep-fried and loaded with salt, the fries from your favorite fast-food joint have a big NO written all over them.
But don't worry, you do not have to give up eating fries entirely, you only have to make a simple swap. The next time you are craving some crunchy fries, give these sweet potato fries a try.
These sweet potato "fries" are baked to perfection and will soon replace all your other side dishes. And the best part, it takes under 30 minutes to make them. These crunchy and delicious sweet potato fries are going to check off all your boxes.
You will need (for 2 side servings):
Sweet potatoes – 2 medium
Sea salt or kosher salt – ½ to 1 teaspoon
Cornstarch – 2 teaspoon
Olive oil – 1 tablespoon
Seasonings (optional) – pepper, garlic powder, dried herbs – as per taste
Recipe:
a. Preheat the oven to 425 degrees Fahrenheit and line your baking tray with parchment paper. Spray some non-stick cooking oil on the parchment paper so that your fries do not stick to the sheet.
b. Wash and peel the sweet potatoes and cut them into thin French-fry like pieces. Try to keep all your pieces as similarly sized as possible, about ¼ inch thick usually works best. This will help them bake evenly.
c. Transfer the fries on your baking tray and spread them across the sheet. Do not overcrowd the fries on the tray or they will not turn out crispy.
d. Sprinkle the sweet potato fries with cornstarch and salt. You can also use regular table salt if you do not have sea salt or kosher salt at home. Toss the fries so that all of them are evenly coated.
e. Drizzle the olive oil over the fries and toss once more.
f. Check to make sure there are no clumps of salt on any of the fries and that the fries themselves do not stick on the sheet.
g. Bake the fries for 15 to 20 minutes or until they turn crispy. You can check if your fries are done by noticing their color and texture. The shiny surface of the sweet potatoes should turn matte and slightly golden brown on the edges.
h. Carefully remove the fries from the oven and sprinkle your favorite seasonings on top. Toss your fries around one last time and voila! Your delicious, crispy, and healthy sweet potato fries are ready for you to devour.
i. Serve with ketchup, mustard, mayonnaise, or any condiment of your choice.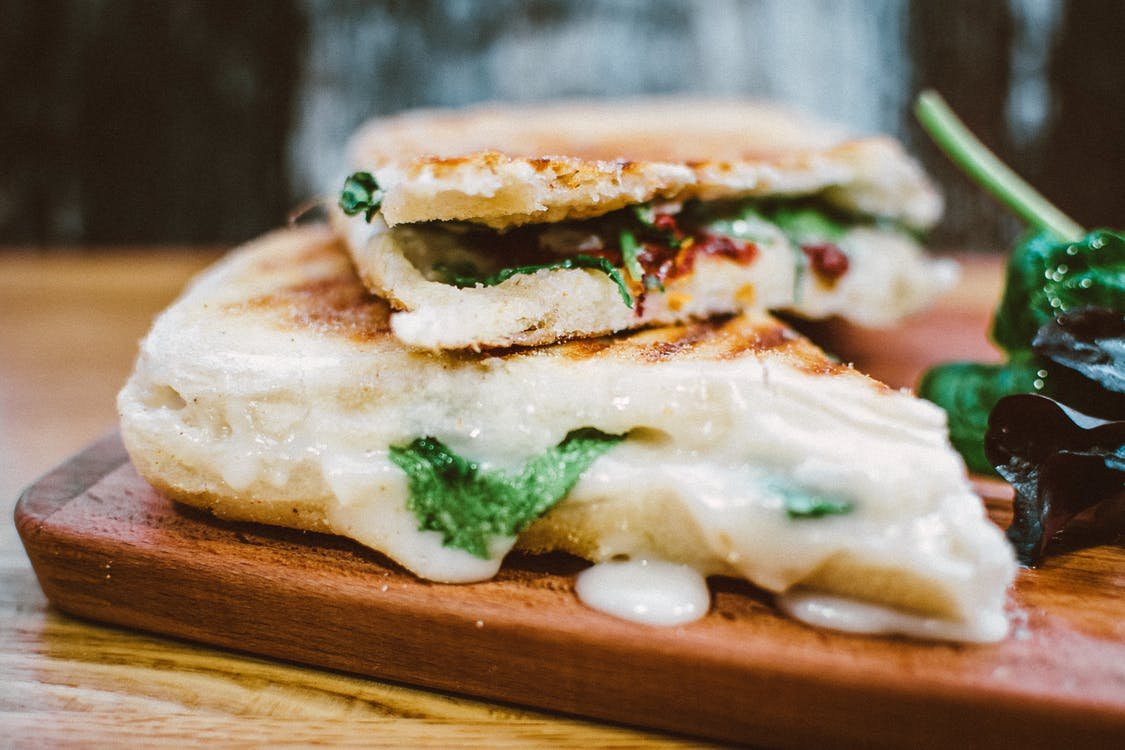 If you thought grilled cheese sandwiches were just for kids' lunch, you thought wrong!
Whether you are short on time or would rather just watch Netflix without worrying about dinner too much, this revamped grilled cheese sandwich will tickle your taste buds with its sweet and savory delights.
Bring back your childhood memories with this new and improved grilled cheese sandwich with a French toast twist!
You will need(for 2 servings):
Bread – 4 slices
Cheddar cheese – 4 slices
Ham – 2 slices (optional)
Eggs – 3 large
Milk – ¼ cup
Salt – ½ teaspoon
Dijon mustard – 1 teaspoon
Sugar – 1 teaspoon
Black pepper – 1 teaspoon
Butter – 1 tablespoon
Recipe:
a. In a big bowl, whisk together the eggs, milk, salt, sugar, pepper, and Dijon mustard till they are mixed Make sure it has a runny consistency with no lumps.
b. On a plate, stack one slice of bread, one slice of cheddar cheese, one slice of ham, another slice of cheddar cheese, and close the sandwich with another bread. Repeat with the remaining slices of bread, ham, and cheddar cheese.
c. You can also use any other deli meat or cheese slice if you prefer.
d. Heat a non-stick pan on medium heat and add butter when the pan is heated. Lower the heat to let the butter melt without burning.
e. Dip one of your sandwiches into the egg mixture till both sides are sufficiently coated.
f. Transfer this egg-coated sandwich to the pan and cook till the bread becomes brown and crispy. Flip over and repeat on the other side.
g. Once both bread have browned as per your liking and the cheese is melted & gooey, remove from pan and cut into half to serve.
h. Enjoy with a side of the delicious sweet potato fries from the previous recipe!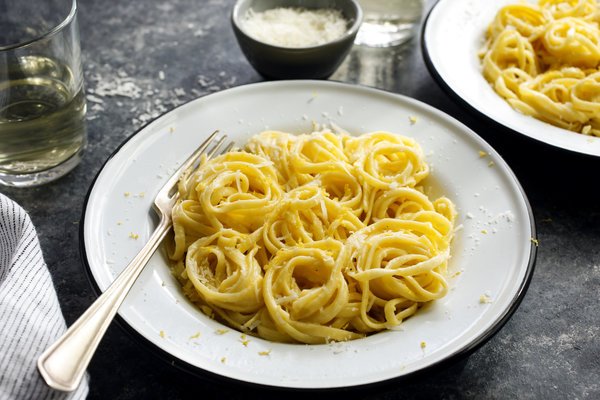 Sometimes, the simplest recipes are the ones that turn out the best, and this pasta dish guarantees just that.
Easy to make with very little ingredients, this lemon linguine pasta will leave you wanting more.
You can also substitute the linguine with any long-cut pasta like fettuccine or spaghetti if you like.
You can even add more veggies like roasted tomatoes, broccoli, and mushrooms if you want to increase your veggie intake for the day.
This pasta dish is perfect for experimenting, so go ahead and add your own spin to the recipe and have fun.
You will need(for 2 servings):
Olive oil – 1 tablespoon
Garlic – 1 clove, minced
Linguine pasta – 6 ounces
Shredded mozzarella or parmesan cheese – 3 ounces
Baby spinach – 1.5 cups
Lemon – 1
Thyme – 1 tablespoon
Basil – ½ cup
Sea salt or kosher salt and pepper – as per taste
Recipe:
a. In a pot, heat the olive oil. Once the oil has heated, add garlic, lemon juice, and some sea salt or kosher salt. Add shredded cheese and whisk together to make a rich and creamy sauce.
b. Use another pot to prepare the pasta. Check the cooking instructions on the pasta package and follow the directions to cook till the pasta is al dente (chewy but firm). Do not throw away the pasta water just yet.
c. While the pasta is cooking, grate the zest from the lemon into a bowl, and squeeze the juice into the cheese sauce.
d. Transfer the hot pasta and ¼ cup of the pasta water into the pot with the cheese sauce. Stir everything together till the pasta strands are evenly coated with the sauce.
e. Toss in the baby spinach or use any other greens as per your likings, such as arugula or watercress. Add basil leaves and some more lemon if you like an extra tangy flavor.
f. Serve on a plate and season with thyme. Your delicious pasta is ready in just about 20 minutes!
g. Feeling fancy? Add some chopped hazelnuts and pine nuts on your pasta for some extra flavor and crunch.
If you loved these simple weeknight meals, you would love the other recipes we have in store for you. From easy desserts to quick low-calorie snacks, you will find it all in the recipe section of our blog. So, what are you waiting for? Subscribe to our blog and have fun cooking these delicious recipes for yourself and your loved ones.